CITIZENS
---
Did anybody apart from Captain Sensible (honest!) and me mourn the passing of the BBC Radio 4 (and 5) soap Citizens?
---
Citizens hit the airwaves on 27 October 1987 BBC Radio's first new soap opera since Waggoners' Walk in the 1970's.
Set in the mythical South London suburb of Ditcham it chronicled the lives of the five young occupants (and a baby) of a house in Limerick Road.
For the first year of its existence it was seen by critics as claustrophobic, grey and politically correct and although the listening figures were reasonable for its off-peak slot (Tuesday and Thursday mornings) it was not big enough for a programme aimed at a mass audience. So after 14 months Clive Brill, who had worked on The Archers, was appointed as editor to revamp and save the programme.
The programme was perceived as polarizing the audience, appealing mainly to young males and the twice a week format (plus weekend omnibus) made it difficult to dip in and out unlike a daily soap such as The Archers. Clive Brill widened the list of characters and locations (including the inevitable drinking establishment) and introduced humour as well as drama into the scripts. However the damage was done and alas, the progamme finished on 27 July 1991.
RIP Citizens I miss you!
---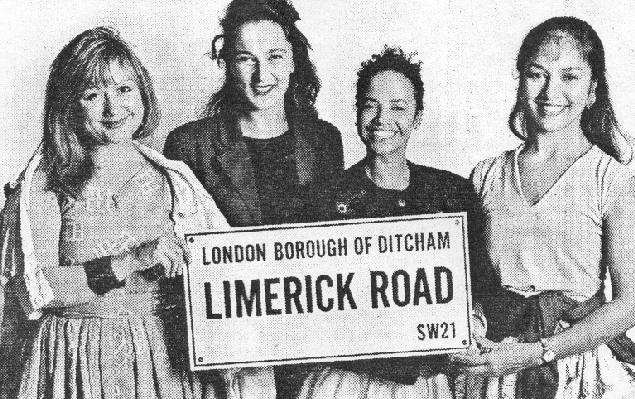 Hetty Baines (Suzi), Kate Duchene (Alex), Beverley Hills (Julia), Seeta Indrani (Anita)
---
Citizens In Print
Paul Donovan, Radio Companion, Grafton, 1992, 0-586-09012-6, p51
Articles about the programme appeared in the following periodicals:
The Radio Times, 24-30 October 1987, p102-3. (An article about the programme in the form of a letter from the sitting tenant of the house and a plan of the house).
The Guardian, 16 January 1989, p?
The Daily Telegraph, 30 January 1990, p?
The Times, ? July 1991, p?
The Sunday Times, Culture section, 14 July 1991, p17
The Sunday Times, Culture section, 17 August 1997, p26 (still having a go!)
---
| | | |
| --- | --- | --- |
| | Listen In | |
---
Final Cast List
| | | |
| --- | --- | --- |
| Suzi...Hetty Baynes | Sally...Avril Clark | Alex...Kate Duchene |
| Mike...Scott Farrell | Toby...Christopher Godwin | Jackie...Eve Gurney |
| Julia...Beverley Hills | Joe...John Hollis | Terry...Anthony Jackson |
| Hugh...James MacPherson | June...Maggie McCarthy | Ernest...Brian Murphy |
| Neville...David Richard-Fox | Kim...Jane Whittenshaw | |
Written by Christopher Reason
---
Return to top of page
Designed by Mark Maidment
---